Kopie van Kopie van Kopie van Media and entertainment

Meijburg & Co's Media & Entertainment practice is focussed on providing tax advice to businesses in the fields of television, film, music, publishing, sport and advertising. We are part of KPMG's global network. Our experts have a keen understanding of the aspects of tax specific to this market segment.
Who are our clients?
Among the clients of Meijburg & Co are many major international media and entertainment companies. Many small and medium-sized businesses, such as publishers, advertising agencies, TV stations, music and film companies, artists and sports personalities, often call on us as well.
What can Meijburg & Co do for you?
Our specific expertise in the field of media and entertainment makes it possible to take advantage of numerous aspects of tax with great efficacy and efficiency, including:
the activation and exploitation of intellectual property rights;
the digitisation of sales channels;
investment and financing structures;
mergers, restructurings and takeovers;
the drawing up of pension and participation schemes.
More information?
Please contact one of our specialists.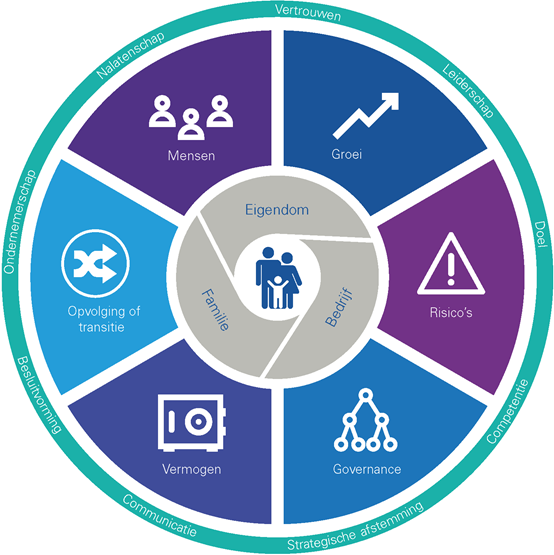 Balans zakelijke behoeften en familieverwachtingen
De dynamiek tussen de familie en het bedrijf is belangrijk voor de besluitvorming. De groei en de duurzaamheid van een familiebedrijf zijn afhankelijk van de balans tussen de behoeften van het bedrijf en de verwachtingen van de familieleden. De tool kan u helpen meer inzicht te krijgen hoe u de balans tussen bedrijf en familie kunt vinden, waarmee u de groei en duurzaamheid van de onderneming kunt bevorderen.
Meer deelnemers, scherper resultaat
Het assessment kan door meerdere familieleden en/of stakeholders worden ingevuld. Sterker nog: hoe meer betrokkenen vanuit uw familiebedrijf de tool invullen, hoe scherper de rapportage. Tevens kunnen de resultaten gefilterd worden op onder andere leeftijd en functie, zowel binnen als buiten uw eigen branche of organisatie.
Oplossingsgericht en datagedreven adviesgesprek
Onze Familie- en Bedrijfspecialisten helpen u graag om de uitdagingen waar uw organisatie voor staat het hoofd te bieden. De uitkomsten van uw assessment bieden hierbij een uitstekend aanknopingspunt voor een oplossingsgericht adviesgesprek.